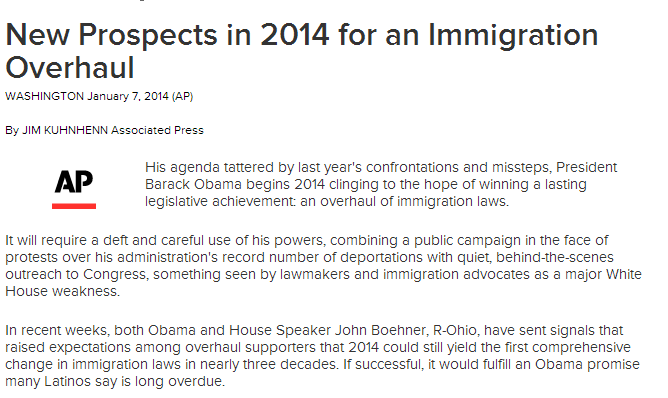 Political analysts are expecting President Obama to continue with his push for an immigration reform, which, according to some, may become the President's lasting legislative achievement if successful. Despite facing strong opposition and setbacks last year to pass a bill for an immigration reform, advocates and analysts alike are seeing some prospects for 2014. ABC News reports on issues regarding the immigration overhaul:
In recent weeks, both Obama and House Speaker John Boehner, R-Ohio, have sent signals that raised expectations among overhaul supporters that 2014 could still yield the first comprehensive change in immigration laws in nearly three decades. If successful, it would fulfill an Obama promise many Latinos say is long overdue.

The Senate last year passed a comprehensive, bipartisan bill that addressed border security, provided enforcement measures and offered a path to citizenship for the estimated 11 million immigrants living in the United States illegally. House leaders, pressed by tea party conservatives, demanded a more limited and piecemeal approach.
The President's push for an overhaul, as well as the pressure applied by immigration-reform advocates could spell positive results not only for undocumented immigrants, but also for immigrants' families. An immigration lawyer in Philadelphia and those practicing in other areas handling employer-based or family-based immigration issues believe that renewed drive for reform will certainly benefit not only the immigrants and their families, but the country's social and economic growth as well.
Among the many indicators of positive developments for comprehensive immigration reform include the President reaching out quietly to Congress while stopping his insistence to pass the exact Senate version of an immigration bill passed in 2013 by the Senate alone, and accepting the House's bill-by-bill approach to the issue. Still it remains unclear if this will be enough to convince the House Republican leadership to take on the issue before the 2014 mid-term elections.
Staunch opposition from Tea Party conservatives could also decrease, as soon as they realize that an anti-immigration stand will no longer work politically. It is not clear however how long it will take GOP conservatives to realize this fact. Another factor that could lead immigration reform discussion to a more positive direction is the role of Republican and House Representative John Boehner. While Boehner refused to call the 2013 Senate bill on the floor last year, Speaker Boehner has reconsidered the matter. It was reported recently that the House Speaker has hired a former bipartisan think tank's immigration task force director, Rebecca Tallent.
Comprehensive immigration reform advocates have also vowed to will apply more pressure on the House GOP members to change what is seen as its well-deserved anti-immigrant stance. Many people including advocates, immigrants and their families, and legal professionals like a Philadelphia immigration lawyer handling immigration-based cases, remain hopeful that change remains possible despite all the hurdles to comprehensive immigration reform.
Undocumented immigrants or immigrants who want to bring in their families from abroad could hire the services of a law firms specializing in immigration, such as Best and Associates, LLP, to ensure that their concerns are addressed properly.
(Article Excerpt and Image from New Prospects in 2014 for an Immigration Overhaul, ABC News, January 7, 2014)