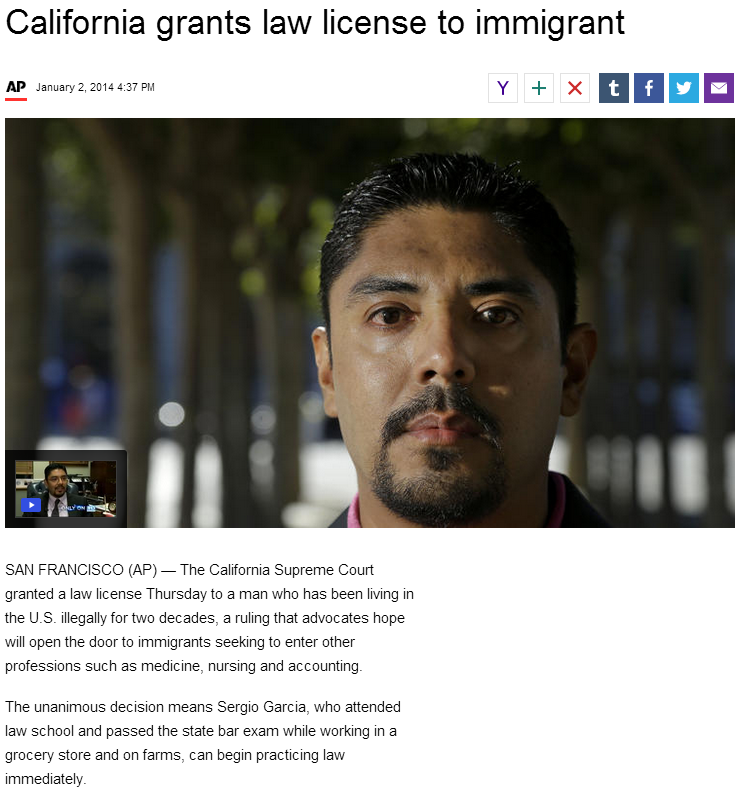 President Obama has been pushing for comprehensive immigration reform, certain that an immigration overhaul will boost the country's economy and offer opportunities as well as legal status to numerous undocumented immigrants. Despite recent setbacks in enacting changes to the Nation's immigration laws, after the 2013 government shutdown and partisan tensions it engendered in Washington, a California State Supreme Court ruling that granted a law license to an undocumented immigrant is being considered as a ray of hope by immigration-reform advocates. An Associated Press article published on Yahoo News details the event,
SAN FRANCISCO (AP) — The California Supreme Court granted a law license Thursday to a man who has been living in the U.S. illegally for two decades, a ruling that advocates hope will open the door to immigrants seeking to enter other professions such as medicine, nursing and accounting.

The unanimous decision means Sergio Garcia, who attended law school and passed the state bar exam while working in a grocery store and on farms, can begin practicing law immediately.
According to Garcia who has a law degree and passed the bar on his first try, the law license will allow him to practice as a personal injury attorney in his hometown of Chico, CA. He added that this ruling could be a "beacon of hope" to other undocumented immigrants in the U.S. who are planning to enter other professions such as accounting, medicine and nursing in other states as well. One legal hurdle is a 1996 federal law that prevents individuals living in the U.S. illegally to receive professional licenses from government agencies unless state lawmakers legislate otherwise. Immigration lawyers in Philadelphia, PA and in other U.S. states representing clients in the same situation as Garcia, are working hard to extend the same sort of benefits as provided by the recent Supreme Court decision in California. Many of these well-educated and qualified professionals were brought to the United States as children, and are out of status in the United States by no fault of their own. Dreamers are thought most likely to be the first group to benefit from any reform proposal likely to pass Congress.
Despite the current stalemate in Congress regarding an immigration overhaul, things are still looking up for millions of undocumented immigrants in the country. President Obama himself is reassuring advocates that he will push on with his plans for comprehensive immigration reform, stating that he would join others on speaking out about the issue.
Undocumented immigrants faced with possible legal troubles, or immigrants who want to bring in their families from abroad and need legal help, should seek the services of an experienced immigration attorney in Philadelphia. Immigration laws and regulation are among the most complicated area of law. These cases need to be handled well to ensure a positive outcome. Therefore it is best for immigrants with legal concerns to work with law firms like Best and Associates/ Best Immigration Law Group which specializes or focuses on particular immigration-related issues.
(Article Excerpt and Image from California grants law license to immigrant, AP via Yahoo! News, January 2, 2014)