The national flag may bear only three colors, but it represents a population of impressive diversity. The Census Bureau's 2009 American Community Survey revealed that the USA is home to 38,517,234 immigrants, which represents 12.5% of the total population.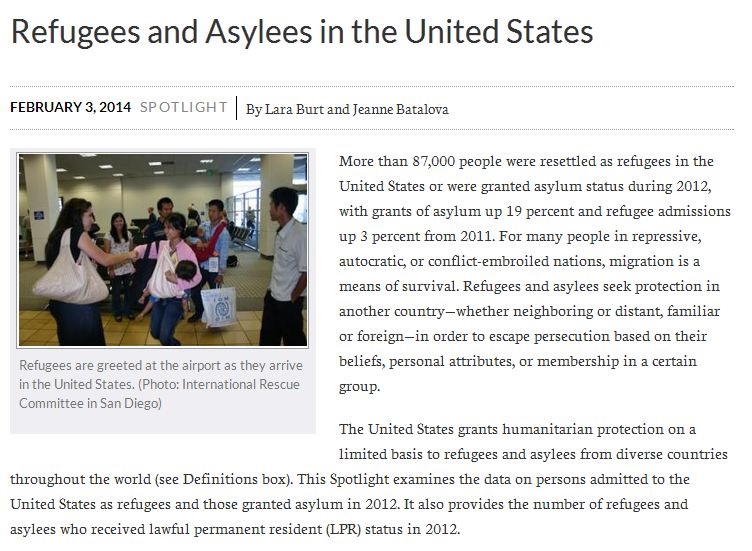 An important part of this figure are immigrants called refugees or asylees—people who flee their countries because of persecution, often caused by war or political instability. Refugees apply for resettlement in the US while they are still abroad, while asylees seek asylum protection only upon reaching American shores (whether voluntarily or if apprehended by U.S. immigration authorities).
MigrationPolicy.org reveals in a special report, that more than 58,000 refugees arrived in America in 2012, but the number of immigrants seeking asylum reached a decade-long high:
"The number of individuals granted asylum in the United States reached nearly 30,000 in 2012.

In 2012, 29,484 persons were granted asylum either affirmatively or defensively. This represents a 19 percent increase versus 24,873 in 2011, making the numbers of asylum grants the highest they have been since 2002 (36,937).

Of all the individuals granted asylum in 2012, 59 percent (17,506) were granted asylum affirmatively, while 41 percent (11,978) were granted asylum defensively."
While getting to America may be the biggest hurdle asylees have to face, they also have to establish a life for themselves in this foreign land. As such, finding a job is of the utmost importance.
This isn't always easy, though, as an immigration attorney in Philadelphia like Atty. Joseph E. Best (managing partner of Best & Associates, LLP) can attest. For people with defensive asylum claims in immigration court, immigration law require all asylum seekers to wait 150 days before they can apply for work authorization. This waiting period known as the "asylum clock"—is a major subject of contention.
To begin with, the clock only begins when an application for asylum is made as relief from removal. If an asylum seeker causes any delay (such as a request for a continuance to prepare for the case in court), the clock will stop and not restart. Getting the court to agree to restart the asylum clock is often a particularly difficult to do. In many cases the only relief is to get to the merits hearing and attain a final grant of asylum.
What if anything can asylum seekers do?
Asylum is extremely complicated and most cases will benefit a great deal from having a good experience immigration lawyer. All asylum applicants should ensure that all their paperwork and biometrics are in order to avoid such hitches. Once a self-caused delay is addressed, the applicant can also file a motion to advance the next hearing date. If they believe that the clock was erroneously stopped or calculated, they should mention this immediately to the immigration judge or to the court administrator. It also helps to hire immigration lawyers in Philadelphia, PA to ensure that all requirements and procedures are followed to the letter.
(Source: Refugees and Asylees in the United States, MigrationPolicy.org, February 03, 2014)