In the middle of 2013, the Senate took a huge step toward implementing immigration reform by passing the Border Security, Economic Opportunity, and Immigration Modernization Act (S.744). The House, however, has preferred a 'step-by-step' approach. Five separate bills have come from the House committee, yet a comprehensive reform bill has still not been heard of from the House floor.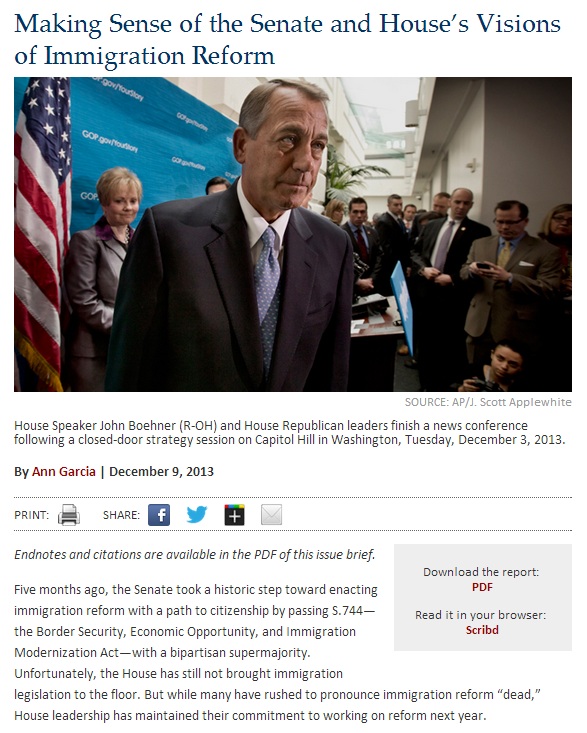 Nevertheless, the House says they are committed to work on immigration reform, and have demonstrated this by introducing H.R. 15, a compromise immigration reform bill designed to earn bipartisan support. An article by Ann Garcia for the Center for American Progress provides a description of this bill:
"H.R. 15 is modeled on the Senate-passed immigration bill, with the addition of the House Homeland Security Committee-passed Border Security Results Act of 2013. Importantly, the two bills that comprise H.R. 15 are entirely bipartisan; the Senate bill was introduced by a group of senators from both sides of the aisle and ultimately passed with a bipartisan supermajority of 68–32, while the Border Security Results Act was introduced by Rep. Michael McCaul (R-TX) and was reported unanimously out of the House Homeland Security Committee. An impressive 190 representatives, including three Republicans, are co-sponsors of the bill."
Much of the debate between the Senate and the House Bills regarding immigration reform focuses on two main components of the immigration system: Undocumented immigrants and border security. A qualified Philadelphia immigration lawyer may explain them to you in detail, but for your basic information, here's an overview:
Undocumented immigrants
The Senate's Bill allows for the legalization of undocumented immigrants. However, the process requires a person to endure a rigorous 13-year path, including many requirements and fees in addition to at least $2,000 in penalties. The House, on the other hand, does not support efforts to establish a special path to citizenship, although they support granting immigrants legal status.
Border security
The Senate Bill aims to improve security of the border between the U.S. and Mexico by adding hundreds of new miles of fencing, installing surveillance technology, and increasing the number of Border Patrol agents. The House Bill H.R. 15 meanwhile calls for as much security and border enforcement necessary in order to capture 90 percent of people who cross into the U.S. illegally.
If you want to learn how the Senate Bill S.744 and the House Bill H.R. 15 affects your immigration status, you may consult a trusted Philadelphia immigration lawyer like the ones at Best Immigration Law Group.
(Source: Making Sense of the Senate and House's Visions of Immigration Reform, Center for American Progress, Dec. 9, 2013)