Towards the end of 2013, residents of Philadelphia were among the many people across the nation who called on President Obama and the U.S. Congress to deliver on their promises to improve the country's immigration system. As the calendar year changes with no reforms in sight, advocates are preparing to intensify their efforts to make their voices heard.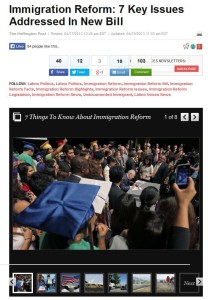 Here is an overview of what immigration reform is meant to bring, which you may revisit and further discuss with a trusted Philadelphia immigration lawyer.
Paths to citizenship
The general parameters of the reform proposal passed this past year by the U.S. Senate provides for the following:
Undocumented immigrants who arrived in the U.S. BEFORE their 16th birthday may apply to change their immigration status and later apply for naturalization, under certain conditions.
Some people previously removed can reunite with their families.
Most undocumented immigrants without criminal records can work in the U.S, get a new form of provisional status and possibly later become U.S. citizens. .
People seeking employment in the U.S. may apply within a new merit-based system for visas and some existing employment based visa programs will be expanded.
The federal government must create an employment eligibility verification system for use by all employers.
Border security must be improved, with Congress allotting billions to enforce "high-risk" areas, as a first step in the reform process.
Finally, other aspects of the reform bill deals with farm workers and high-tech employment.
This is a big bill, running hundreds of pages in length as it deals with our extremely complex and problematic system of complex immigration statutes. If this version of the bill is passed by the House and enacted into law, these provisions would enable the estimated 11 million undocumented immigrants to fully participate in the economy and benefit from being legally employed. More importantly, family members with differing immigration status would no longer have to be separated. At the same time, the points about which some Americans citizens are most concerned—border and job security—would not be left unaddressed.
City of Brotherly Love
However the final version of the immigration reform bill turns out, it will surely affect millions of lives in Philadelphia. In 2012, the U.S. Census Bureau noted that 13% of the local population wasLatino, with 6.8% Asian, 2.3% other races, and 3.2% of mixed race. The diversity of Philadelphia will only likely increase in the years ahead which is a good thing for those looking for a great place to live as well as for the city as a whole which benefiting from the advantages immigrant communities bring.
As the debates on immigration reform continue, people are encouraged to consult an experienced immigration lawyer in Philadelphia, such as one from Best & Associates, LLP. A lawyer will be able to explain what each development in the issue might mean for their families or businesses, and will also be able to assist immigrants in taking the necessary steps to secure permits for living and working in the U.S., according to the requirements of new immigration laws.
(Article Image and Info from Immigration Reform: 7 Key Issues Addressed in New Bill, The Huffington Post, April 19, 2013 and from http://www.immigrationpolicy.org/special-reports/guide-s744-understanding-2013-senate-immigration-bill )