The Defense of Marriage Act (DOMA) had both created a federal definition of marriage barring recognition of same sex couples as well as provided a federal legal basis for states to not legally recognize otherwise valid same-sex marriages performed within other states and foreign countries. During litigation challenging the validity of DOMA, the Obama administration, while required to continue to enforce DOMA, did exercise executive discretion by refusing to continue to defend the law's constitutionality before the U.S. Supreme Court.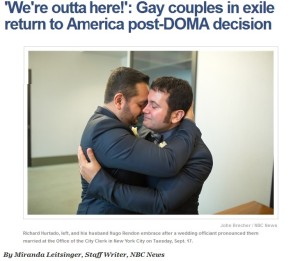 After the landmark United States vs. Windsor case of 2013, the U.S. Supreme Court declared Section 3 of DOMA to be unconstitutional. For the first time, legal same-sex marriages were recognized by the U.S. government on a federal level. Subsequently, the Department of Homeland Security stated that visa applications for same-sex spouses would be treated like those of opposite-sex spouses.
The following excerpt from NBCNews.com provides more information:
[The DOMA decision] was welcome news for bi-national gay couples in the U.S., a group estimated to number more than 32,000, according to Williams Institute, a think tank based at the UCLA School of Law. The federal government does not track data on such couples living overseas. But Immigration Equality, an advocacy group for gays and lesbians, said 900 of the 3,000 online inquiries it received after the DOMA ruling came from couples outside the U.S.
Under the new immigration guidelines, a valid marriage in a foreign country or a U.S. state where same-sex marriages are legal will be accepted, according to U.S. Citizenship and Immigration Services. Processing of family visas – a first step toward qualifying for a green card– is taking about 11 months, the agency said.
Prior to the U.S. v. Windsor decision, LGBT Americans were prevented from sponsoring their foreign spouses for residency in the U.S., and many chose to relocate abroad to live with their spouses. The definition of who is an immediate relative, now including a same sex husband or wife, provides for a potential array of discretionary derivative benefits in not only petitioning for one's relative but also in removal defense in Immigration Court or waivers to various grounds of inadmissibility. Many gay Americans gave up ties with their communities and well-paying jobs. Moreover, many sacrificed spending time with aging parents, children, and other family members left behind in the U.S.
An experienced immigration attorney in Philadelphia—like the legal team at Best and Associates, LLP—can help same-sex couples and their families remain together by fighting deportation and processing family visas. However, the fight is far from over. Until same-sex couples can marry in every state in America, the extent to which they will receive federal marital-based protections nationwide remains uncertain.
Competent immigration lawyers in Philadelphia will help American citizens and greencard holders petition for their immediate relatives (defined as parents, children, and spouses). While securing fair access to federal protection for same-sex couples will take some time and work, the advocacy work of LGBT groups and immigration attorneys are slowly paving the way towards equality.
(Article Excerpt and Image from 'We're outta here!': Gay couples in exile return to America post-DOMA decision, NBCNews.com, September 27, 2013)